Samsung Z500 (SGH-Z500)
The Samsung Z500 is the smallest and lightest 3G phone to date - at less than 100 grams and packed into the same size case as the classic E700, the SGH-Z500 is an remarkable bit of kit.
What's more, the SGH-Z500 doesn't leave anything out that you'll need. There's a 1.0 megapixel main camera, with a secondary camera on the inside to allow video calling. The screen on the Samsung Z500 is a 176x220 pixel unit, with 262,000 colours, and there's a smaller external display at 80x64 pixels too.
There's a lot more though - the SGH-Z500 can play back MP3, AAC and MPEG4 multimedia plus many other formats, store data on removable TransFlash memory and even comes with 50Mb internally which is enough for many users.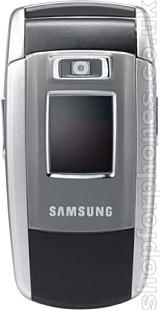 Like almost all new high-end Samsungs, the Z500 is a Bluetooth device allowing you to easily connect it up to a PC or accessory. You can also synchronise with a PC using a USB cable or infra-red. You can connect the SGH-Z500 to a PC and use it to access the internet while roaming too (service limitations may apply).
There's a WAP 2.0 browser on the Samsung Z500, plus an email client so you can keep in touch in a variety of ways - there's also MMS messaging, video calling and more.
This is a really compact 3G device, at 91x45x25mm it's only a fraction larger than the very popular E700, and the Samsung Z500's weight of just 95 grams makes it easy to carry around. The neat internal antenna also means that it won't snag in a pocket or bag, unlike some 3G handsets. Outside of a 3G coverage area, the SGH-Z500 will roam to GSM (it's a tri-band phone) and supports GPRS, so you needn't worry too much about coverage.
Available soon. Please subscribe to our newsletter for updates.

Samsung Z500 (SGH-Z500) at a glance

Available:

2005

Network:

UMTS (3G) + Tri-band GSM

Data:

UMTS (3G) + GPRS

Screen:

176x220 pixels, 262,000 colours (main)
80x64 pixels, 65,000 colours (sub)

Camera:

1.0 megpixels (main)
0.3 megapixels (sub)

Size:

Compact clamshell
91x45x25mm / 95 grams

Bluetooth:

Yes

Infra-red:

Yes

Polyphonic:

Yes

Java:

Yes

Battery life:

Not specified